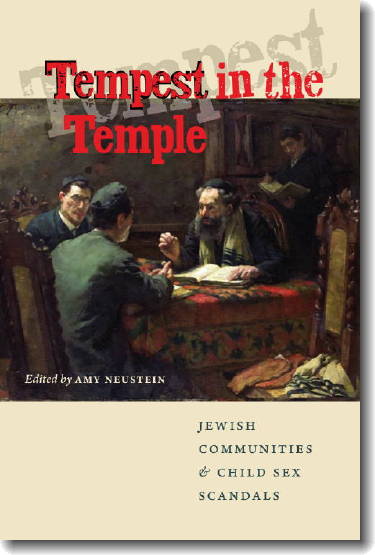 Amy Neustein, after breaking open the ugly secrets of the family court system in From Madness to Mutiny: Why Mothers Are Running from the Family Courts -- and What Can Be Done about It in 2005, has made a second major contribution to the literature on child sexual abuse. She is editor of Tempest in the Temple: Jewish Communities and Child Sex Scandals. This book -- a brave collection of essays by rabbis, educators, lawyers and psychotherapists on sexual abuse within the Jewish clergy -- was published in 2009 by Brandeis University Press/University Press of New England, ISBN 1-58465-671-9, in their American Jewish History, Culture and Life series, with a Foreword by Rabbi Dr. Elliot N. Dorff.
This book, the first critical study of child sex abuse committed by Jewish clergy, is finally opening a door on a previously taboo subject. In Tempest, Dr. Amy Neustein -- scholar, activist, and author -- redresses the dearth of scholarly material investigating sexual abuse within the Jewish clergy. The book brings together many practicing rabbis, educators, pastoral counselors, sociologists, mental health professionals and legal advocates for abuse victims, each of whom offers insights into different facets of the problem.
Honest and Controversial Because it shines a light on a painful topic, this book sparked controversy within the Jewish community even before it appeared, but has won plaudits and supports from a wide range of professionals and lay people who believe child sex abuse by Jewish clergy has been ignored for too long. The book contains discussions of some of the most scandalous and talked-about sex abuse cases in modern Jewish history, including that of Rabbi Avrohom Mondrowitz, whose "cold case" was revived, against the will of powerful Orthodox rabbis and the law enforcement officials they influenced, by methods described for the first time in this book. It also contains essays by prominent therapists and mental health professionals who have worked with the victims of child sex abuse -- or the perpetrators. Within weeks of publication it was praised by the influential 15 Minutes on-line magazine as a leading "page-turner" on a timely and important subject. It is also "highly recommended" by CHOICE: Current Reviews for Academic Libraries (a publication of the Association of College and Research Libraries).
This book is blazing a trail into a complex and serious problem that has never before been explored in print. Amy Neustein has assembled the work of rabbis, therapists, advocates and legal experts to produce a rigorously documented, lucidly written examination of a subject ignored for too long. Tempest in the Temple will be remembered for opening the doors.
From the Foreword by Rabbi Dr. Elliot N. Dorff:
This book does us all a real service in describing this particular form of abuse in its various forms, the communal structure that enables it to happen and then to be hidden from public view, and the ways in which the Jewish community can and should respond to it.…Hiding our heads in the sand on this issue simply will not work to resolve it and effectively makes us all accomplices of the perpetrators.…May this book…motivate us to eradicate [child sexual abuse] from our midst so that we can truly be "a kingdom of priests and a holy nation." (Exodus 19:6)
From the Preface by Rabbi Dr. Jeremy Rosen:
This important and courageous collection of essays tackles an issue that…has been brought out of the shadows into the glare of common interest.…We who are passionately committed to Torah have a sacred obligation to ensure that it is seen in a positive light. Sometimes that means facing unpleasant realities.…"Truth must sprout from the ground." Where there is light there can be growth.
Josh Lambert, influential reviewer for Tablet, the on-line Jewish magazine, lists Tempest among the most important books he read over a two-year period, praising its "original insights" in this retrospective column (PDF, original version here):
Among the more unexpected books released in the past two years . . . New anthologies edited by Erica Jong, Danya Ruttenberg, and Amy Neustein have . . . offered insights into contemporary Jewish women's sex lives, into the theology of Jewish lovemaking, and into the problem of pedophilia in Jewish communities.
Debbie Fox, Director of Children and Family Services, Jewish Family Service of Los Angeles says:
Neustein's work is a most timely volume that serves educators, parents, clergy, and mental health professionals who face the challenge of protecting children from child sexual abuse.
David Morris, in a review on his blog Tzedek-Tzedek -- prominently reprinted in the Features section of the influential Jewish Press -- says:
"I couldn't put it down", "reads like a Dan Brown novel . . .", etc. hardly sound like descriptions of a Brandeis University Publication . . . [But] the most immediate factor I found with Tempest in the Temple was how very readable ("user friendly") it is . . . The two chapters "Straying the Course" by Erica Brown and "Justice Interrupted" by Amy Neustein and Michael Lesher describe, document and assess some of the past failings of Jewish communities in appropriately handling and preventing child abuse, and propose some practical steps for detecting and responding to such cases. . . .
Tempest in the Temple is a pioneering book, offering a broad range of highly readable, thorough, balanced, professional studies and first hand accounts concerning the chosen subject matter . . . Tempest in the Temple should be read particularly by those involved in Jewish community life, including Jewish social services, education, congregational management, and rabbinical training. . . . Important in every sense.
The Reverend Anne Grant, in a review published in the Providence Journal, calls Tempest a "fascinating collection" whose "startling histories" help us all to "begin the discussions we have resisted too long." Chaim Seymour of Bar-Ilan University, writing in the prestigious AJL Newsletter, says that Tempest "should be required reading for parents and Jewish community leaders" and praises the book for presenting "documented cases of the perversion of justice to 'protect' the community. . . . After reading this book, I was left with a very strong lesson as to how vulnerable our children really are!"
Donald H. Harrison's review in the San Diego Jewish World praises Tempest both for its honesty and for its emphasis on proposals for reform:
If the book's authors had simply wrung their hands over child abuse in the Jewish community, they would have served little more purpose than the journalists they criticize. However . . . the book does offer some guidelines concerning making responsible inquiries into the situation, anticipating the inevitable fallout and polarization that might occur as a result of those inquiries, and working with police and prosecutors to help victims get justice, and thereby put them onto the road to recovery. . . . [The book] provides much in resources should a situation of sexual abuse by a leader in the Jewish community arise. It's the kind of book that belongs on a communal library shelf, to be consulted as needed.
Mary Gail O'Dea, a clinical psychologist specializing in sexual abuse recovery, lauds Tempest and its editor in an on-line review as "excellent": "Amy Neustein is yet another voice dragging the sexual violation of the young by trusted elders out of society's skeleton closet."
Other on-line reviews from the popular Library Thing site have this to say about Tempest:
Each essay allows the reader a glimpse into hearts of people trying to cope with the unthinkable and challenges us to examine our own thoughts and ethics. . . . I would highly recommend this book to any one wanting to understand the psychology and sociology of sexual abuse and the "cover-up" reaction of a community. . . . In many ways this is a guidebook for Jewish communities on how to handle these sorts of situations. To that extent it does an excellent job of providing practical advice and illuminating why there have been cover ups in the past that have often served to cause more harm and put more innocents at risk.
TEMPEST IN THE TEMPLE AND ITS EDITOR FEATURED IN MAY 2011 CANADIAN TELEVISION DOCUMENTARY "WALL OF SILENCE," EXPLORING CHILD SEX ABUSE IN ORTHODOX JEWISH COMMUNITIES (VIDEO CLIP HERE)

TEMPEST IN THE TEMPLE CHOSEN OUT OF HUNDREDS OF BOOKS BY 15 MINUTES, THE ON-LINE MAGAZINE REACHING 400,000 READERS, AS TOP "PAGE TURNER" FOR JUNE-JULY 2009 (SEE REVIEW HERE)

In 2022, 18forty, a new media company focusing on Jewish social issues, featured Tempest in the Temple as "Recommended Reading" for their series "Abuse in our Community" (see pdf, or web link here — scroll down if necessary).




Home • Amy Neustein • Childless Mother • Women in Science UN Campaign
Woman of Valor • Curriculum Vitae • Awards • Publications • Presentations
From Madness to Mutiny • Reviews • Libraries
Tempest in the Temple • Tenant Activism • Sisters of B'khors
Media • In the News • Print Media • Broadcast Media • Contact